Wedding music is very important, as the right song selection puts your guests in a celebratory mood, and also sets the tone for the entire wedding day. If you are planning to get married soon, this list of top 10 Botswana wedding songs may come in handy!
10. Lerato
Lerato, sung by Mahlatze Vokal, was released in 2017. This beautiful love song in the Sepedi language talks about the love that exists between two people, a love that withstands the test of time. This song is perfect for any wedding in Botswana.
This exciting, up-beat song is just what you need to get your guests all excited. You can play it as the bridal party comes in for the reception, or as a wedding dance for the couple and their guests. If you want to have a fun-filled wedding, this song must be on your list!
Remember the 'knocking' tradition? This song, one of the top 10 Botswana wedding songs, refers to the knocking that precedes most wedding ceremonies. Make sure you include this song by Black Spot in your playlist, as it will appeal to everyone, especially the older generation!
7. Thelledi
Thelledi, performed by Malaika (Jabulani Ndaba, Bongani Nchang and Matshediso Mholo), is part of the album 'Sekunjalo.' Though it was released way back in 2007, it still remains a favorite choice for wedding playlists across Botswana.
6. Mma Motse
Mma Motse is a beautiful afro-jazz, R&B love song with an authentic African sound. This song by Motlha describes and extols the desirable virtues in a girl that will make her succeed as a wife. This song is a definite must-have at any Botswana wedding!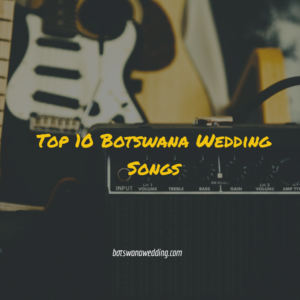 5. Mmatswale
This lovely song by Malaika is another of the most common Botswana wedding songs and features at every other wedding ceremony. Though it was released a while back, in 2008, it remains popular to date!
4. Makoti
This song by Platform One, one of the top 10 Botswana wedding songs, has a nice traditional feel to it, just what you need to bring authenticity to your wedding. Add this 2010 release to your wedding playlist, and you are sure to have a great time dancing along!
Theo Kgosinkwe is the composer of this song from way back in 2008 in which a man expresses his love for the lady in his life. This lively song will have everyone on their feet as they celebrate your big day with you!
Lezontaba, released in 2010, is another wedding song from the group known as Platform One. Your guests will enjoy both the traditional feel of this song, and its message of love. Your list will be incomplete if it does not have this song on it!
1. Baby Please
This 2016 release by Robbie Malinga and featuring Kelly Khumalo is one of those songs that must be played at a Botswana wedding. It is a beautiful love song that can be played as the bride walks in with her parents, or for the couple to sing to each other as they make their vows!
Now that you have this awesome list of top 10 Botswana wedding songs, it's time to make that playlist! Good luck as you plan for your wedding!